Reinvestment Plan Development
Start Date: October 1, 2019
Key Partners: Gainesville Community
Estimated Completion Date: March 31, 2020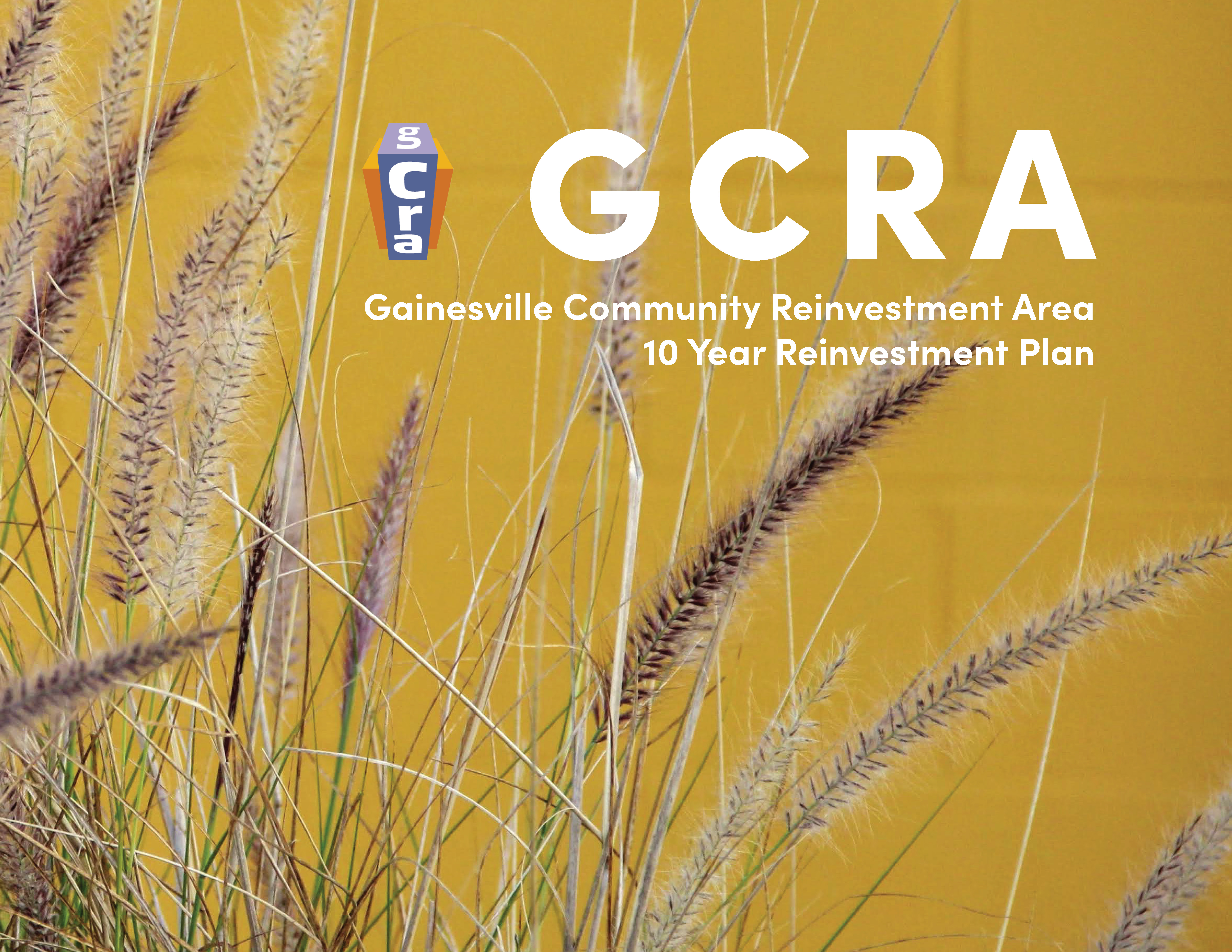 Objective
In 2019, a state-wide discussion regarding the future of Florida's Community Redevelopment Agencies resulted in an uncertain future for all CRAs, including Gainesville's. The City of Gainesville and Alachua County Commissions wished to create a solution that would address local issues and also insulate the agency from future state legislative mandates. The two entities approved a plan that would enable them to design the future of the agency in a mutually agreeable structure.
In April of 2019, the two commissions signed an agreement regarding Community Redevelopment. This agreement required the City to hold public hearings to discuss the name, activities, duration, and funding structure of the future CRA. From these discussions, an ordinance was drafted and taken to the City Commission for a first reading on August 15, 2019, and for a second reading on September 5, 2019, at which time it was adopted. Ordinance 181001 in effect dissolved the Gainesville Community Redevelopment Agency and created the Gainesville Community Reinvestment Area (GCRA), effective October 1, 2019.
Under the ordinance, the new GCRA will continue its reinvestment efforts as a city department, with a ten-year end date and a fixed budget. The internal boundaries of the four existing redevelopment areas (College Park/University Heights, Downtown, Eastside, and Fifth Ave/Pleasant Street) have been dissolved, maintaining the external boundary and resulting in a single reinvestment area.  On October 3, 2019, the City Commission appointed the 15 members of the new GCRA Advisory Board. In 2020, the GCRA office and staff will relocate to the Gainesville Technology Entrepreneurship Center (GTEC) at the Cornerstone Campus on SE Hawthorne Road.
The final step in the transition was the development of a consolidated Reinvestment Plan, through a public process, that will guide the work of the GCRA over the next 10 years. From October of 2019 to March of 2020, the GCRA worked with the community, the advisory board, and the city commission to consolidate the four former redevelopment plans into a single Reinvestment Plan.
The Reinvestment Plan was sent to the City and County Commissions on March 31, 2020.
Quick Links
Former Redevelopment Plans:
Presentations from the November 2019 Community Workshops held in each of the former redevelopment areas:
First draft presentation from the December GCRA Advisory Board Meeting:
Materials from the January 15 Draft Reinvestment Plan Public Workshop:
Final draft presentation from the February 18 GCRA Advisory Board Meeting and February 19 Public Workshop:
Revised final draft presentation from the February 27 Special GCRA Advisory Board Meeting:
Materials from the March 5, 2020, City Commission Meeting:
Download the Final Plan here.
Contact Information
Project Manager
(352) 393-8201
Bakaitisch@cityofgainesville.org
Last Updated On: 12/30/2019