City Manager Announces Selection of CRA Director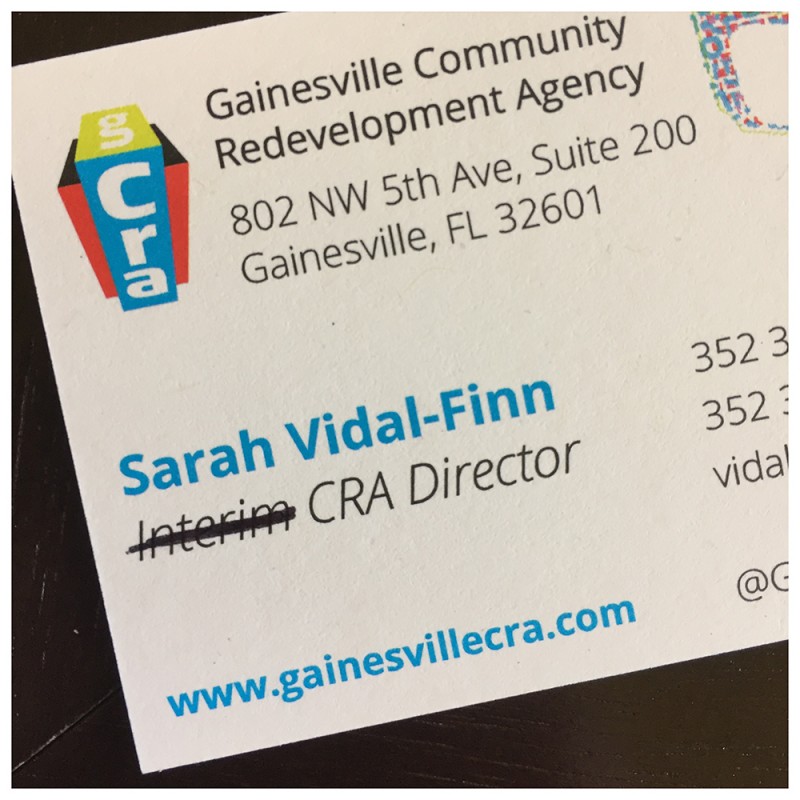 Gainesville City Manager Anthony Lyons is pleased to announce the selection of Sarah Vidal-Finn to lead the Gainesville Community Redevelopment Agency (CRA). As director, Vidal-Finn will lead redevelopment efforts in the city's urban core.
Vidal-Finn most recently served in an interim director capacity for the CRA. She played a pivotal role in the development and execution of Depot Park and the Bo Diddley Plaza and initiatives that will unfold in 2017, such as Northwest First Avenue streetscape, Power District redevelopment, the Heartwood neighborhood development (former Kennedy Homes site) and the Cornerstone (GTEC area) expansion.
City Manager Anthony Lyons also serves as the executive director of the Gainesville CRA. He hired Vidal-Finn to join the CRA team in 2009. "Sarah's experiences at the CRA have shaped her intuitive grasp of innovative concepts that drive redevelopment of our urban areas. I expect that she will continue to enjoy great success as CRA director," stated City Manager Lyons.
Before her appointment as interim director, Vidal-Finn was the CRA manager with oversite of budgeting and procurement and improvement of operational processes within the CRA. She also managed redevelopment projects, and has successfully completed multiple capital projects during her tenure. Prior to joining the Gainesville CRA, Vidal-Finn was the construction coordinator for the University of Florida Purchasing Services Department, where she supported the university's procurement and contract management for construction-related services for Facilities Planning & Construction, Physical Plant Department, Housing and the Institute of Food & Agricultural Service.
"It's a true privilege when your profession aligns with your passion," noted Vidal-Finn. "The CRA plays a big role in 'what's next' for Gainesville and I look forward to continued partnership with the communities we serve to deliver projects that result in real economic impacts for our city."
Vidal-Finn is a licensed Florida real estate sales associate, with a background in commercial real estate and development and a certified housing development finance professional by the National Development Council. She holds a Bachelor of Arts degree in English from the University of Florida and is a fourth generation Gator with significant family history in the Gainesville community.