Power District RFQ!
After years of community engagement and advanced technical studies, the City of Gainesville is seeking partners to redevelop 17-acres of vacant, former industrial land in Southeast Gainesville!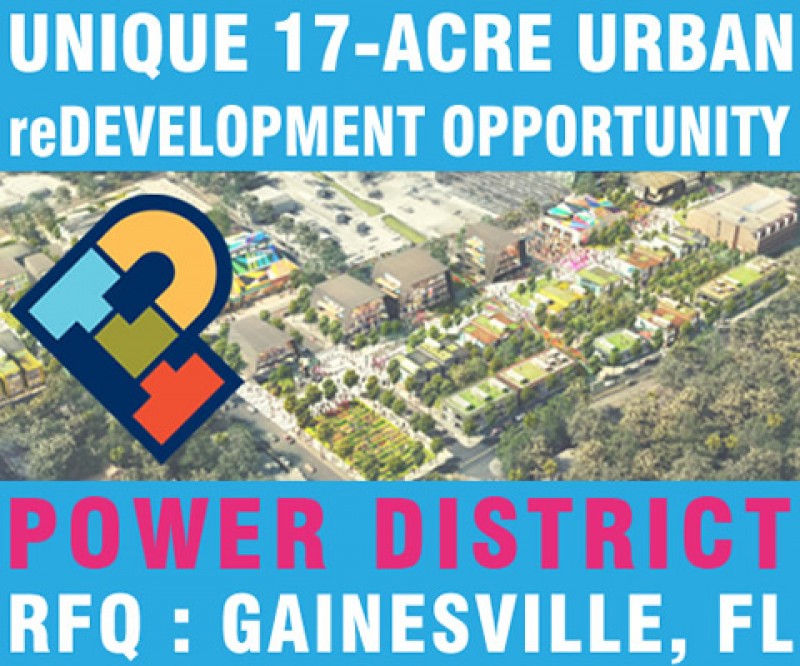 After years of community engagement and advanced technical studies, the City of Gainesville is seeking partners to redevelop 17-acres of vacant, former industrial land in Southeast Gainesville!
A request for qualifications was issued Monday, April 18 by Gainesville Regional Utilities (GRU) and the Community Redevelopment Agency (CRA). The property is located along the north side of Southeast Depot Avenue, adjacent to GRU's Kelly Power Plant and Depot Park.
Through this process, the City of Gainesville is seeking Statements of Qualifications from experienced developers/development teams. The primary purpose of this process is to pre-qualify private sector partners interested in transforming a series of underutilized parcels into an active, eclectic, pedestrian-friendly and economically-sustainable district. Based on the results of this RFQ process, the CRA anticipates announcing subsequent RFPs (request for proposals) that will trigger initial phases of redevelopment.
Power District redevelopment goals include:
Attracting private investment into the area, while maintaining the principles and community vision of the 2013 Redevelopment Plan and current zoning allowances.
Leveraging public resources that directly encourage economic development activities.
Creating a distinctive "sense of place" by creatively celebrating the industrial character of the area by way of architecture, urban design, engineering and place making.
Developing density differently by breaking up single large scale buildings into a series of multiple smaller scale buildings with decentralized parking.
Daylighting Sweetwater Branch Creek and activate public spaces.
Reconnecting the urban fabric throughout the Power District by way of integrated pedestrian and vehicular facilities.
Implementing an eclectic and wide range of land uses within the Power District that provide employment, housing, entertainment and recreation opportunities.
Complementing the adjacent surrounding neighborhood and land uses including the Southeast Historic District and McRorie Community Garden.
Adaptively reusing buildings and materials to maintain the history and character of the area.
Developing flexible spaces for independent, local and diverse businesses with a wide range of rental rates and property ownership options.
Fostering relationships between small, diverse, local developers and larger developers to ensure local participation.
Utilizing a diversity of temporary programming events to promote and market the Power District.
Using innovative, environmentally-friendly architecture and site design to promote sustainability.
Proposals are due Thursday, June 9 at 2 p.m. (EST), and qualified applicants will be selected at the end of June 2016.
In 2013, the CRA, acting as an agent for GRU and the City of Gainesville, led the formation of a stakeholder-based Power District Redevelopment Plan. The plan focused on laying out a strategic redevelopment vision that will serve as a platform for economic growth, while improving the quality of life in the Power District and surrounding neighborhoods.
Companies and businesses interested in locating to the Power District should contact Tabetha Getz, director of Innovation Gainesville, at the Gainesville Area Chamber of Commerce at 352-334-7133 or tabetha@gainesvillechamber.com to be included in a directory of potential tenants that will be shared with potential developer respondents to this RFQ.
Visit www.gru.com/powerdistrict to view the full RFQ and information about the Power District. Visit www.gainesvillecra.com/downtown_project22.php to view the 2013 Power District Redevelopment Plan and technical studies.
To ensure a fair and transparent submission process, any applicant questions must be emailed to Gainesville Regional Utilities Senior Buyer Dana Gauthier at gauthierdl@gru.com by May 23, 2016.
Please direct media inquiries to CRA Project Manager Nathalie McCrate at mccratena@cityofgainesville.org or 352-393-8213.