Innovation Square roadway wins state public works award
See the 2015 Project of the Year!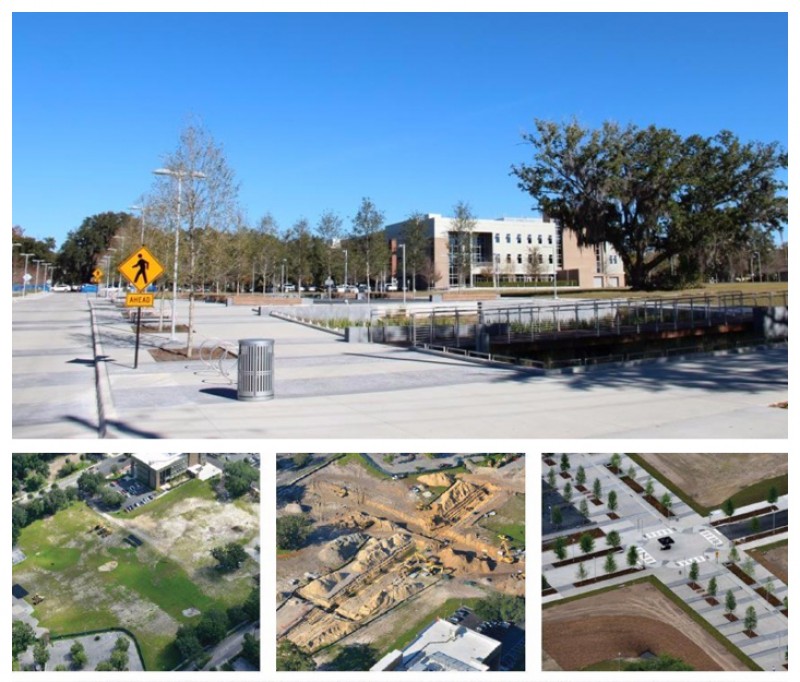 Gainesville, Florida–With its slate-gray stripes, towering cypress trees and cascading bio-swales, SW 9th Street stands out as Innovation Square's signature corridor.
The roadwaycaught the eye of industry leaderstoo—SW 9thStreetwas recognized as thestate's"2015 Project of the Year" in the under $5 million transportation category by the Florida chapter of the American Public Works Association.Ledby the Gainesville Community Redevelopment Agency, the SW 9thStreet and SW 3rdAvenue project was opened to the public in summer 2014. The corridor laid the groundwork for Innovation Square's utility grid and public access; nearly 1,471 linear feet of new streets, utility infrastructure, and greenspace was installed. "It's an honor to be recognized for our efforts at the state level—and to see the community truly embrace thisproject as their own," said Gainesville CRA Director Anthony Lyons. "The intersection hasalready become astage for karate practices, metal sculpture exhibitions, job fairs, food truck ralliesand more." The streets will take on increasingly more personality in the coming months: they bisect the 16-acre lot where community leadersplan to bridge the University of Florida's main campus and Downtown Gainesville with a vibrant research park. Signet Development's adjoining five-story, $23 million entrepreneurial residence hall will provide dorm space for 308 students when it opens in August 2015. The CRA would like to extend a special thanks to the many community members who devoted their personal time and energies to thisproject. Innovation Square roadways partners include:the University of Florida, UF Health, City of Gainesville's Public Works Department,Gainesville Regional Utilities, Oelrich Construction, Perkins + Will, JBrown Professional Group, CHW, Brentwood, CRA board, College Park/University Heights advisory boardand many more private-public partners. For more information about the CRA and its projects please visitwww.gainesvillecra.comor contactNathalie McCrate at 352-393-8213.