Improving the Visitor Experience at Depot Park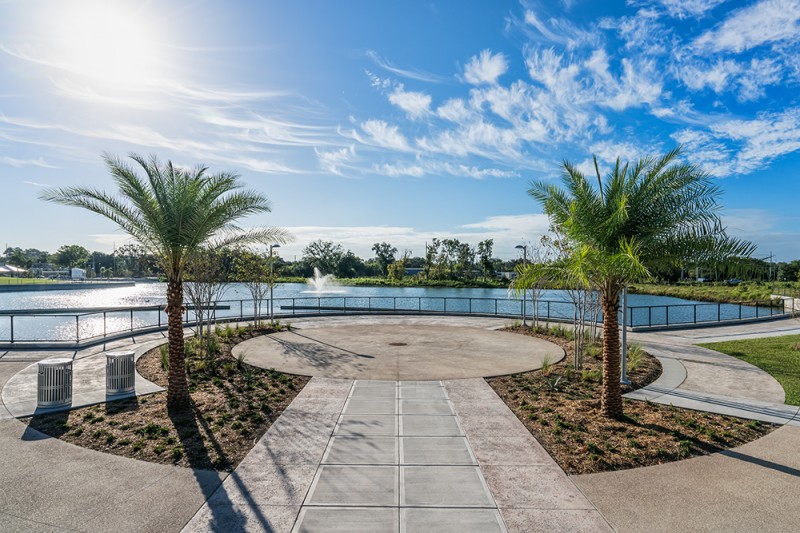 As Depot Park approaches its one year anniversary, additions that will improve the visitor experience are underway. Over the past year, the City of Gainesville's Community Redevelopment Agency (GCRA) and the Parks, Recreation, and Cultural Affairs Department (PRCA) have been collecting feedback from park visitors in an effort to make the park even more successful, enjoyable, and safe. Here are some changes you can expect to see in the upcoming months.
This summer, several sunscreen dispensers will be installed in Depot Park as part of the city-wide sun protection campaign. As one of the first projects funded through Wild Spaces Public Places, the CRA has been working with the playground design team on the addition of a series of permanent shade sail structures in the children's play area. These shade sails will provide relief from the summer sun where it is needed most. Additional relief from the summer heat can be sought at the chilled water bottle filler and fountain that will be installed adjacent to the public restrooms in July.
With events and activities now in full swing throughout the park, the importance of providing additional access options to the Depot Building from the plaza area has been recognized. A new ADA compliant ramp will be added to the southern side of the building. Installation is anticipated to start in July.
If you have been to the park recently, you may have noticed a change in the stormwater pond. The Department of Public Works (DPW) recently replaced the fountain. The new addition propels water more than twice as high!
The GCRA,PRCA, and DPW look forward to celebrating the one year anniversary of Depot Park with you in August!