GNVCares Program to Provide COVID-19 Related Relief to Neighbors and Small Businesses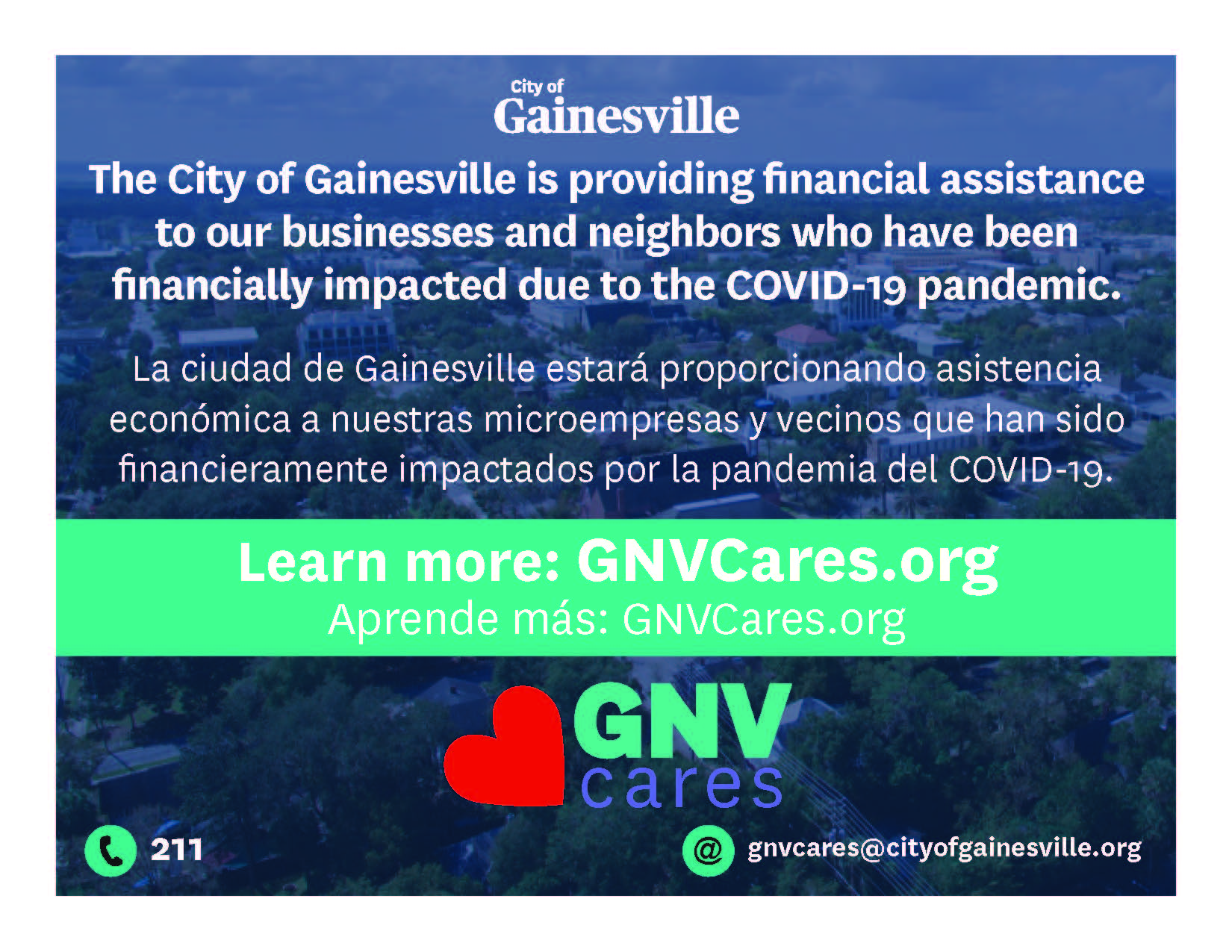 The City of Gainesville has launched GNVCares, a $3.18 million program aimed at expanding local relief and recovery efforts through direct assistance to city residents and to small businesses impacted by the COVID-19 pandemic.
GNVCares About Neighbors
GNVCares About Neighbors will provide temporary assistance to extremely-low, very-low and low-to-moderate income households by way of utility and/or rent/mortgage payments. Eligibility will be determined based on proof of income and lost wages as a result of the COVID-19 pandemic. Individuals would receive up to $1,250 applied directly toward utility and housing costs.
GNVCares About Neighbors is accepting applications until Sunday, May 17 at 11:59 p.m. The application is available online, or application assistance is available by calling 211.
GNVCares About Businesses
GNVCares About Businesses will provide grants to small businesses whose operations were curtailed because of the COVID-19 pandemic. At this time, businesses with no more than 50 employees who operate within Gainesville city limits are eligible to apply for a one-time, $5,000 grant to offset costs such as rent and utilities. Businesses which have received "Payroll Protection Program" funds and/or "SBA Disaster Assistance in Response to the Coronavirus" funds are not eligible.
GNVCares About Businesses is accepting applications until Wednesday, May 20 at 11:59 p.m.
The GNVCares program is funded by the City of Gainesville's General Fund, as well as the Community Development Block Grant, State Housing Incentive Partnership and Gainesville Community Reinvestment Area funding sources.
For more information, visit GNVcares.org, dial 211 or email gnvcares@cityofgainesville.org