Depot Park earns $60,000 Capital City Bank grant for Adventure Play Area
Depot Park visitors will now have some much needed protection from the Florida heat!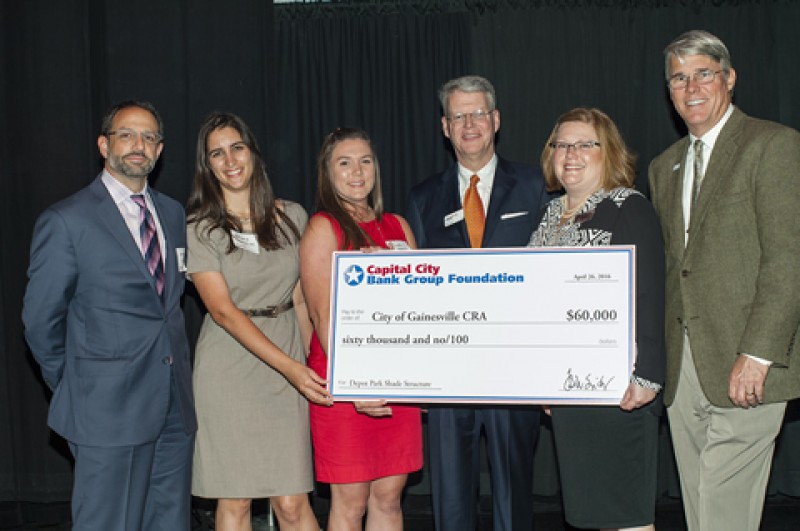 Depot Park visitors will now have some much needed protection from the Florida heat! We're thrilled to announce that Capital City Bank's non-profit foundation has graciously contributed $60,000 towards constructing a much-needed shade structure next to the Depot Park custom splash pad and adventure play area! (pictured from left to right: City Manager Anthony Lyons; CRA Project Manager Nathalie McCrate; CRA Project Manager Cindi Harvey; Capital City Bank Chairman, President, & CEO William G. Smith, Jr.; Interim CRA Director Sarah Vidal-Finn; CRA Board Chair & Commissioner Craig Carter)
GAINESVILLE, Fla. – Families will enjoy some much needed shelter from the hot Florida sun when the Depot Park play area opens this summer, thanks to the support of a local bank. Financial services firm Capital City Bank has committed $60,000 toward adding a sunshade structure next to the future downtown central park's splash pad and play area.
Currently under construction by the Gainesville Community Redevelopment Agency (CRA), Depot Park will feature a football-field sized children's play area with a custom Sweetwater Creek-themed splash pad; a water's edge promenade designed to host food truck rallies, art galleries, festivals and other special events; outdoor grills and picnic pavilions; dramatic entry features; and more.
"At Capital City Bank, we are committed to supporting causes that enhance the quality of life enjoyed in our communities," said Chairman, President and CEO of Capital City Bank William G. Smith, Jr. "Our company was founded on the values of community pride and loyalty, and community involvement has been a part of our tradition for more than 120 years. Our associates don't just work in our communities. We also live here. We raise our families here, so we have a deep, personal interest in what happens here. We are proud to have been the first private investor to step forward and contribute to the Depot Park project."
The funding announcement was made during the Capital City Bank Annual Shareowners' Meeting, held at the Phillips Center for Performing Arts in Gainesville, Florida on April 26 (a photo is available upon request by emailing gainesvillepio@cityofgainesville.org). The check will officially be presented to the Gainesville CRA Board (composed of the City Commission) at 3 p.m. Monday, May 16. The meeting will be televised on Community 12TV and available to view on the city's website at www.cityofgainesville.org.
"We are deeply honored to have been selected for the Capital City community grant," said interim CRA Director Sarah Vidal-Finn. "Depot Park will be a major destination for families all over the north central Florida region when it opens in just a few months. This grant will significantly improve the experiences of parents and children enjoying the park."
The Depot Park grant was awarded through the Capital City Bank Group Foundation, a non-profit organization created in 1983 by Capital City Bank Group that provides grants to non-profit, charitable organizations and institutions exempt under Section 501(c)(3) of the Internal Revenue Code. Through this annual grant process, Capital City Bank helps community organizations fulfill their missions and enhance the lives of local citizens.
For more information, please contact Gainesville CRA Project Manager Nathalie McCrate at mccratena@cityofgainesville.org or 352-393-8213 or Capital City Bank Chief Brand Officer Brooke Hallock at 850-508-1675.